The rainy season is almost upon us. This means that there will be heavy rains and low visibility. As such, if you are planning on delivering goods to your clients during the monsoon, you need to choose a goods transport company that has taken the necessary precautions to combat the season.
But you might ask- what are these safety factors that a logistics company needs to consider? So if you are unsure about the planning and precautions that should be undertaken during the rainy season, you need to read below.
How Can You Safely Transport Goods During Monsoon?
Here are the safety precautions that a transport company must undertake during the rainy season:
● Advanced Proper Planning
Advanced monsoon planning can reduce risks and delivery delays. So make sure to choose a transport goods company, that keeps an ear out for the weather conditions in the current and delivery location. Know that this will allow them to know about the conditions beforehand. So they can be better prepared for it.
For example, if there's a storm accompanied by high winds, the company can install high-speed wipers and change the tires for better grip on the slippery roads. Also, if the thunderstorm is intense, then delaying delivery will be the smart option.
● The Packing Material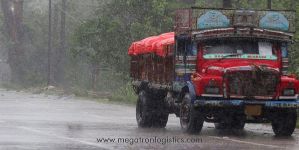 You certainly wouldn't want your goods to get soaked during transit. After all, your client might refuse to accept soaked products. This is especially true for fertilizers, grains, coal, cement, chemicals, etc. As such, you need to use sturdy and waterproof packaging materials.
But these packaging materials won't be functional if they are employed inappropriately. So you need to choose a goods transport company that has experience in packaging the products you need to send.
For example, wrapping chemicals/glass requires more care and precision compared to packaging wooden furniture. Know that diligent wrapping measures will prevent your goods from getting damaged or soaked in the rain. As such, you won't have to incur any losses.
● Check The Tires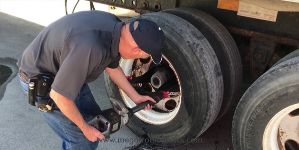 We mentioned in the first point that you should choose a goods transport company that changes the tires of its truck to avoid harmful situations on a slippery wet road. So let us expand on that here. Know that this is because bald tires are potentially dangerous since they have no grip on the road during rains. So this can result in accidents.
As such, logistic companies that change their tires on time and check for bald spots provide an unspoken guarantee of safe travels. Not to mention the fact that it proves that they thoroughly check their vehicles before sending them off.
● GPS Enabled Trucks
It's common during intense storms and heavy rains for trucks to make a pit stop somewhere safe. After all, it's the safer alternative than driving with a huge load during uncertain and unsafe conditions. Also, during storms, there's an intermittent network connection. So the driver might not be able to report back about their current situation.
As such, you will be in the dark about the current location of the truck and your goods. So we advise that you hire a logistics company that comes with GPS trucks. This will allow you to track the location of the truck, even if you aren't able to remain in contact with the driver.
● Install Functioning Wipers And Brakes
When selecting a company that transports goods, you need to ensure that they repair and maintain their vehicles periodically. Most importantly, they need to keep their windshield wipers in a functioning condition. After all, this will prevent the driver's vision from getting obstructed by heavy sheets of rain.
Know that wipers are some of the least noticed equipment. But know that over time the sturdy rubber lining of the blades can wear off. So proper maintenance is needed. Also, the transport goods company needs to ensure that the wipers work on all speed settings.
Along with wipers, brakes need to be cared for too. It needs to be cleaned and replaced if the need arises. Along with this, the brake fluids have to get checked and the brake lines need to be monitored for lubrication. Overall, the brakes need to have adequate and immediate stopping power.
● Utilizes Transparent Tapes
Most products get labeled during delivery. This helps the client distinguish one from the other and reduces complications and confusion. But if water seeps in somehow, then the labels might get torn off. So we advise you to employ a transport goods company that uses clear or transparent tapes to keep the labels safe.
Transporting goods during the rainy season is a risky endeavor. As such, we advise you to hire a trusted and reputable logistics company that has experience transporting the kind of goods you trade with. Also, make sure that it follows the necessary precautions to ensure safe rainy season transportation.